7th Annual Auburn Big Time-Pow Wow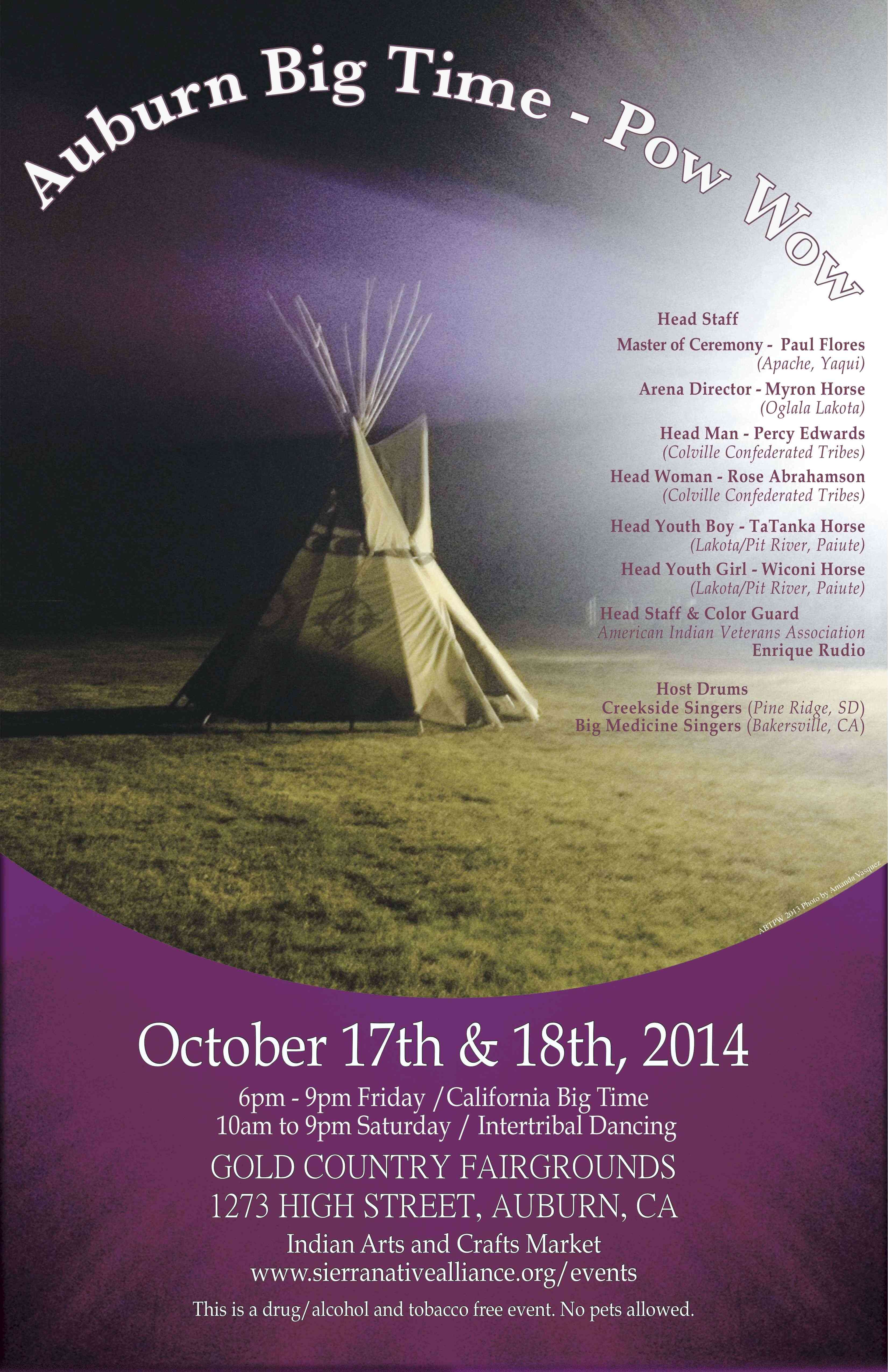 On October 17 and 18, 2014, Native American dancers, drummers, singers, artist and food vendors will be gathering from across the region to participate in the Auburn Big Time—Pow Wow at the Gold Country Fairgrounds, 1273 High Street, Auburn, CA.
This year's event begins Friday night at 6pm with California Traditional Big Time Dancing. Our MC is Rick Adams, Nisenan Cultural Specialist and President of Hutu Anape Cultural Foundation, who brings his knowledge, wisdom and humor. The Big Time brings together local Miwok/Maidu families and neighboring tribes for ceremonial dancing and singing. Spectators are welcome, but during this event please ask for permission before taking photographs.
The pow wow will be held on Saturday from 9am till 9pm.
Head staff
MC – Paul Flores (Yacqui, Apache)
Arena Director – Myron Horse (Oglala Lakota)
Head Man – Percy Edwards (Colville Confederated Tribes)
Head Woman – Rose Abrahamson (Colville Confederated Tribes)
Head Youth Boy – TaTanka Horse (Lakota/Pit River, Paiute)
Head Youth Girl – Wiconi Horse (Lakota/Pit River, Paiute)
Head Gourd – Ben Wolf (Kiowa)
Eagle Staff & Color Guard
American Indian Veteran Association
Enriqu Rudio
Host Drums
Northern: Creekside Singers (Pine Ridge, SD)
Southern: Big Medicine Singers (Bakersville, CA)
This family-friendly event is free with free parking at the fairgrounds. Spectators are encouraged to bring chairs.
This is a drug, alcohol and tobacco free event. No pets allowed.
For more information or to join the committee, please contact SNA at lorenn@sierranativealliance.org or call SNA main office (530) 888-8767.
Click on the links to view Pow Wow Post Card
Post Card
Native Youth Arts Show
The Maidu Museum in Roseville is hosting a Native Youth Art Show this spring. Artwork from students of the Sierra Native Alliance and the United Auburn Indian Community will be on display April 12-30, 2013. This show opens in April with a reception Saturday April 12st, from 6:30-8:30pm at the Night Out at the Museum/Artwalk series. For more information visit: www. roseville.ca.us/indainmuseum
Yomen- Maidu Museum Spring Celebration
Interns from the SNA Native Youth Conservation Corps (NYCC) will be hosting a booth at the Maidu Museum's Yomen: Spring Celebration on Sunday April 27th, from 10-3pm. This event celebrates spring and California Native culture with traditional dance groups, art and craft demonstrations, guided tours, storytelling, information booths, and children's activities.
For more information visit: www. roseville.ca.us/indainmuseum